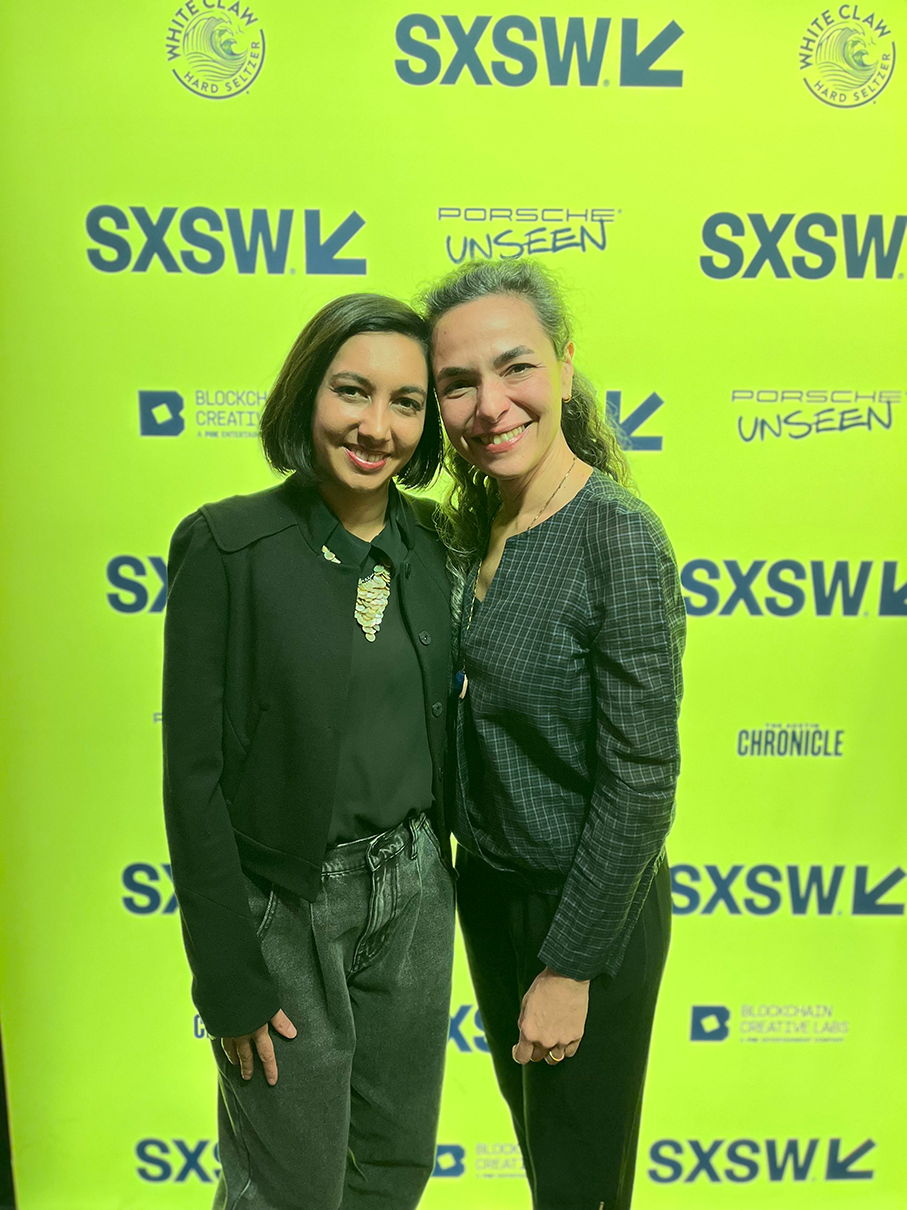 "You are a storyteller, you are a choreographer, and you're also, in some sense, a lawyer. You have to demonstrate the case. We anticipated that people would have doubts that racism really plays a role [in maternal mortality], or that births outside of hospitals can ever be safe."
The film introduces Shamony Makeba Gibson and Amber Isaac, two Black women who reveled in the anticipatory thrill of motherhood as seen through their home videos. Their premature deaths were caused by clear negligence from medical professionals who disregarded health concerns after the birth of their children. Gibson and Isaac's partners, Omari Maynard and Bruce Mcintyre, alongside Gibson's mother Shawnee Benton Gibson, channel their grief through mobilizing other impacted people and draw unprecedented national attention to the maternal mortality epidemic through public demonstrations and imploring elected officials to pay attention.
"Birth is such a fundamental phase of life," Prasad says, explaining how the core team's shared experiences of giving birth provided an important backdrop for navigating the weight of this story and its importance. "We all have a huge stake in this process going well. As somebody who's given birth and has felt how vulnerable and frightening [it is], who's in that room and how they're treating you matters so much. Having experienced that did make a difference [in editing the film.]"
The documentary exposes racial biases in the maternal healthcare system that viewers may not be privy to otherwise. This required Prasad and de Souza to view their roles as investigators as well as editors, providing comprehensive scientific research supporting the individual experiences of Shamony Gibson, Amber Isaac, and countless other women of color who died due to medical racism.
"You are a storyteller, you are a choreographer, and you're also, in some sense, a lawyer," Prasad says. "You have to demonstrate the case. We anticipated that people would have doubts that racism really plays a role [in maternal mortality], or that births outside of hospitals can ever be safe."
Prasad and de Souza originally met when paired as mentor and mentee through the Karen Schmeer Film Editing Fellowship. As co-editors, they found comfort in having a soundboard in one another to discuss the intricacies of the story.
"[Editing] is also a process of writing, especially when you're working with vérité footage," Prasad explains. "You need to know the footage really well, and to have somebody else who also has all of that in their brain was like a revelation. It's incredible to have somebody to discuss the story with at every beat because we're in it deeper than anybody."
"There are decisions that we as editors face every minute of the day — some more important, some less important," de Souza shares. "I miss having someone to balance my decision making with."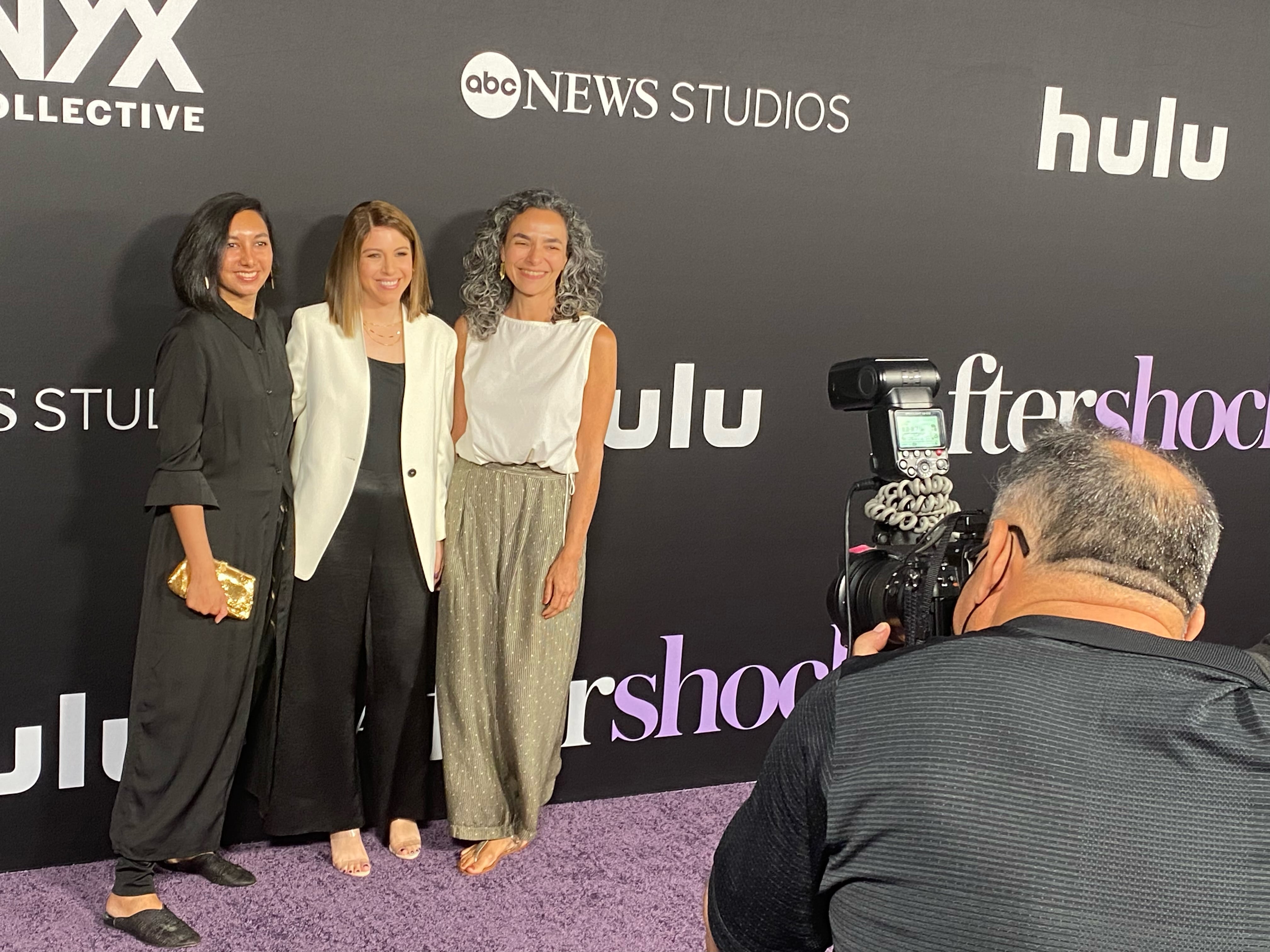 Sunita Prasad, Paula Eiselt and Flavia de Souza at the Hulu premiere of Aftershock.
Aftershock provides damning evidence on how financial incentives and preference for efficiency impact individual choices made by healthcare professionals when providing birthing options to mothers in the United States. In the film, Dr. Neel Shah from Harvard Medical School explains that C-section procedures in the United States have increased by a whopping 500% since the 1970s — given that the shorter the procedure, the more cost effective it is for the hospital in the long-run, despite C-section procedures costing more for the patient than a vaginal birth. Black women, according to Shah, are three times more likely to give birth via a C-section procedure than white women.
Prioritizing efficiency over human life puts the most vulnerable people in our community at serious risk, and Dr. Shah points out that maternal health functions as the bellwether of a society's overall well-being. Interwoven through the documentary is Felicia and Paul Lewis's experience seeking alternative care for the birth of their child, providing a powerful lens on future practices that put people first. They visit Breathe Birth and Wellness in Broken Arrow, Oklahoma, a birth and women's wellness center that prioritizes the comfort of the pregnant person. The cost for the facility ends up being $3,000 out of pocket, compared to Oklahoma's average hospital birth of $12,662. This is the collective vision that activists and organizers highlight in the film — a space dedicated to equitable, anti-traumatic care, serving as a challenge to a system prescribing abuse as the norm.
Throughout Aftershock, Shamony Gibson is ever-present as a reminder of why we must build a new world of maternal care. The audience is asked to understand what's at stake from the first few minutes of the film; in a brief yet connecting montage, we see Shamony's life bloom in front of us — jokes shared between her mother and siblings; bubbling anticipation surrounding her two pregnancies; deep trust shared between her and her partner. We're taught immediately as viewers what is at stake when medical professionals refuse to interrogate their internal biases and what these statistics of maternal mortality really look like — they were real, loving people eager to become mothers, and they were robbed of that chance.
Tanya and Paula started talking about how it would be great if we had a sense of who Shamony was before we got to the memorial. Who is this person we're mourning?" de Souza shares. "We had this amazing treasure trove of home videos — Shamony's younger sister is a photographer and cinematographer and she was recording their lives. They even had a Youtube Channel called Shamazing Life, and I can't tell you how much fun I had watching Shamazing Life. I started getting the sense that this is really remarkable, this woman — she really had a lot of personality."
In the face of unimaginable loss, what can we give each other? Aftershock reminds us that amidst this grief, there are clear alternative practices of care setting the tone for what should be standard birthing practices, rooted in communal, authentic support. One of the most moving scenes of the documentary is Felicia's birthing experience, the pacing of the scene matching sentiments expressed by a midwife greeting Felicia and Paul to the facility: "We give you the most important gift as a first-time mom, and that is time."
The insidious, inextricably linked nature of capitalism and racism seeks to rob us of our time in every space it can — time giving birth, time with our loved ones, time growing in our new roles as mothers, fathers, caretakers. Aftershock makes a stunning claim to every mother's right to time through spotlighting those who left us too soon, and those dedicating their time and energy to save others from the same devastating loss.