The time is finally here! Brown Girls Doc Mafia (BGDM) is launching our new online private community on Friday, Oct 7, 2022. We'll be moving the entire community off Facebook Groups and onto a new space hosted on the Mighty Networks platform. Thank you to all the members that completed our Platform Needs Survey in the summer of 2020. We want to especially express gratitude to Mallikah Rollins, Dolissa Medina, Maria Fortise, Leah Borromeo, Joanne Butcher, Gwendolyn Alston, Karna Kurata, Fabiola, Alish Bhowmika, Cindy Choung, and Niam Itani, for their invaluable help during our research phase.
Over the years, BGDM's needs have grown as our community expanded. The new BGDM social network not only has the social and engagement features that enable our bond, but also has additional tools that creates a resource hub: the beloved Community Resource folder, conversations organized by topics, latest information about our programs, and much more.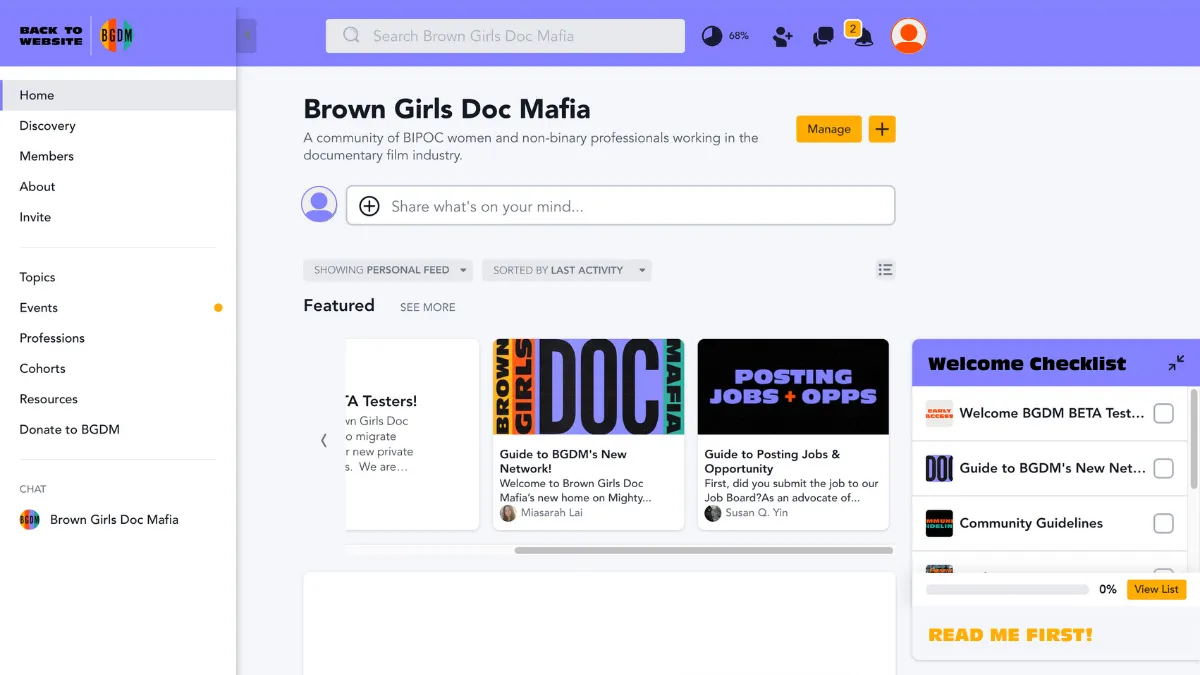 Why is BGDM moving away from Facebook Groups?
Members expressed the desire to have their own non-Facebook-related profile, the ability to search folks geographically and by profession, and the functionality to post video and long-form article resources. Our new online community delivers these features.

We want to protect our culture of safety and privacy.

No more facebook algorithms! No more competing for your attention! Create personal post feeds and never miss a direct message. Members will have access to 1-to-1 chats and group chats up to 9 people on Mighty Networks.

The modern design is clean and simple to use. Topics also have separate sections on the network, which makes it easier to navigate and find the different conversations that are important to you.

Mighty Text Chat Events replaces WhatsApp, allowing us to connect real-time at festivals and events.

For us to grow as an organization and more effectively run our programs, we needed an unrestricted method to connect with you off of Facebook.
On Friday, Oct 21, 2022, we'll be disabling posting on the Facebook group. All historical posts will remain visible. However, to continue your access to the BGDM community, you will need to be on Mighty Networks! We will be pinning migration instructions as well as information on missing invitations at the top of the Facebook Group.
If you have any more questions about the new BGDM online community, Mighty Networks, please feel free to reach out at community@browngirlsdocmafia.org.
See you there!