Inspiration and Innovation at the William & Louise Greaves Filmmaker Seminar
Pola Pucheta • May 1, 2023
AGENTS OF ACCESS
Blackstar's William & Louise Greaves Filmmaker Seminar was holistic. Based on the BlackStar Film Festival Filmmaker Symposium, the two day seminar was hosted for the first time in person in Philadelphia, and gathered "Black, Brown, and Indigenous artists working in cinematic realms," in an exploration of art-making. Industry access and opportunity is at the forefront of the work at BGDM, making Mafiosxs agents of access. Empowering the community with the resources, tools, and support we need to be successful at festivals and seminars is a major stride toward the impact we're pursuing in the documentary industry.
"I'M STILL PROCESSING ALL OF IT. IT WAS AMAZING TO SHARE SPACE WITH PHENOMENAL BLACK AND BROWN FOLK CREATING GROUNDBREAKING CONTEMPORARY WORK. MY NOTEBOOK IS FILLED WITH NAMES, BOOKS, PHRASES, AND QUOTES, FOR PERSONAL GROWTH AND FOR PROJECTS I AM WORKING ON."
- CHITHRA JEYARAM
A UNIQUE SPACE FOR COMMENTARY & REFLECTION
The Seminar's programming was rooted in reflective and honest discussion, while also sprinkling in a range of media criticism. Attendees were joined by Terence Nance for a director's commentary on the latest season of Random Acts of Flyness, situated in the context of his other work around the city — including screenings at Penn Live Arts and the SWARM exhibition at the ICA Philadelphia. The Afrofuturistic themes surfacing in the current cultural conversation around gestalt intelligence show up practically, with BGDM members often nested together in a single row for each program. Something about catching a familiar face or a knowing smile is a welcome reminder that "Yes, I see you," and "Yes, you are meant to be here."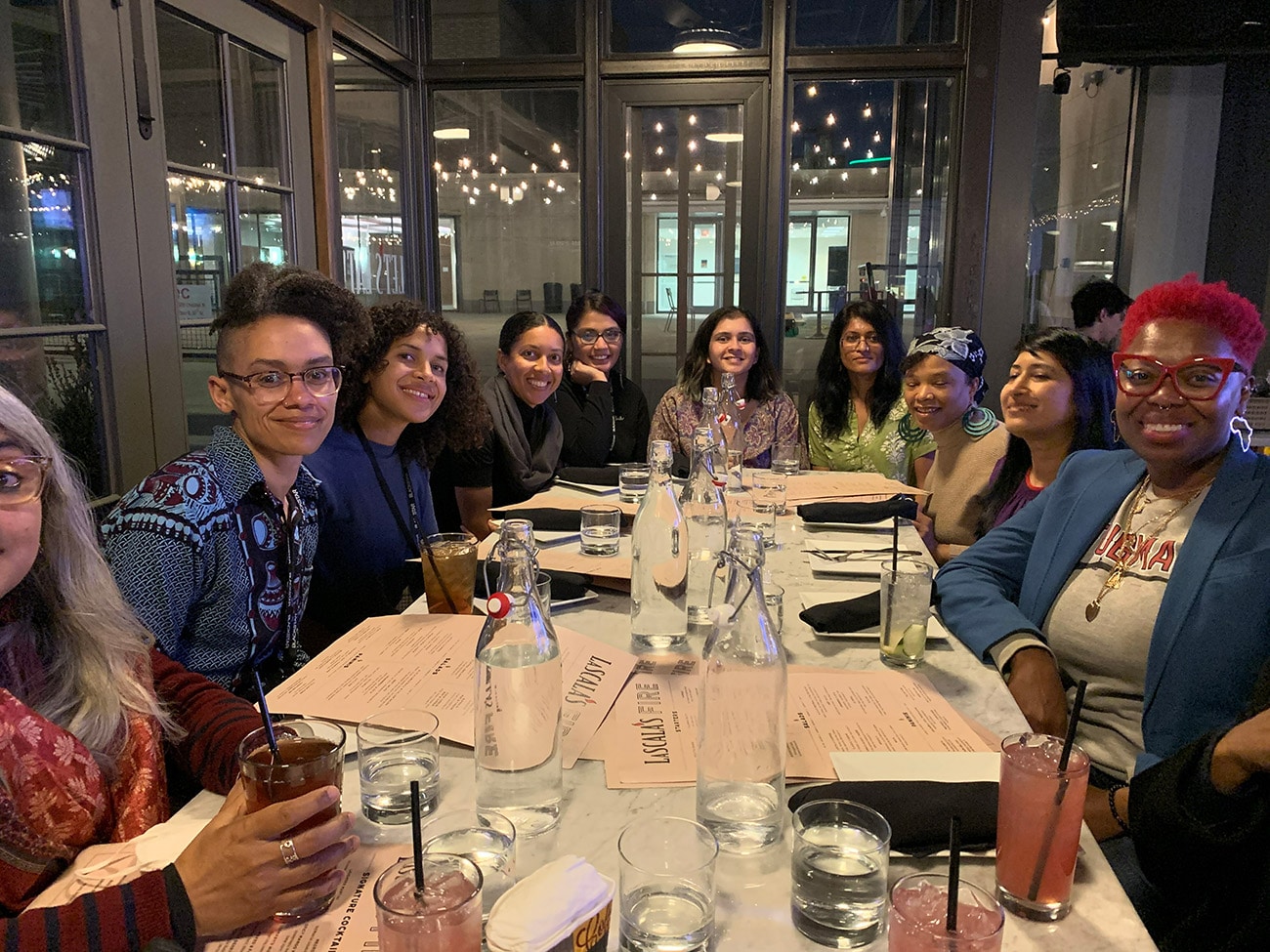 "THIS BREATH OF FRESH AIR WAS EXACTLY WHAT I NEEDED JUST AT THIS MOMENT IN MY FILMMAKING CAREER. NOT ONLY WAS IT REALLY AMAZING TO HEAR FROM OTHER BLACK AND BROWN FILMMAKERS ON THEIR APPROACH TO THEIR CRAFT, BUT I'M GRATEFUL FOR THE MOMENTS WE HAVE TO GATHER, THINK, REFLECT, LEARN, AND ENERGIZE ONE ANOTHER. THANK YOUR BGDM FOR BEING A SUPPORTIVE ORGANIZATION THAT VALUES THESE MOMENTS AS WELL."
- NAJMA NURIDDIN
THE ART OF ASSEMBLY
Most notably, perhaps, was the BGDM meetup sandwiched between the first and second marathon seminar days. One part respite, one part reunion, what was expected to be a casual gathering of about ten people bloomed into a function of 30 filmmakers tucked into the corner of a restaurant. With grace from the waitstaff, we managed to convene and connect. Our new Development Manager and Philly local, Daquisha Jones, was also welcomed into the fold and embraced by those who were present. With so much focus in the Seminar on experimentation and innovation within our filmmaking, it struck me that the act of gathering is likewise an art. Part of what makes our community so special is the secret sauce in the way we show up for one another. It almost can't be articulated, the way BGDM is a home for people. As creatives, there's a case for experimentation, improvisation, and even radicality in the way we assemble together.
"SO MUCH OF THE WORK WE DO AS INDEPENDENT CREATORS IS SOLITARY. BRINGING US TOGETHER TO CONNECT WITH EACH OTHER AND TO EXPERIENCE THIS VERY INTENTIONALLY CURATED AND INSPIRING SEMINAR LIFTED MY SPIRITS AND RE-ENERGIZED ME IN COUNTLESS WAYS. THANK YOU FOR SUPPORTING OUR PRESENCE AT THE WILLIAM AND LOUISE GREAVES FILMMAKER SEMINAR!"
- MRIDU CHANDRA