Brown Girls Doc Mafia Announces 2022 Black Directors Fellows and Sustainable Artist Fellows
Tracy Nguyen-Chung • September 14, 2022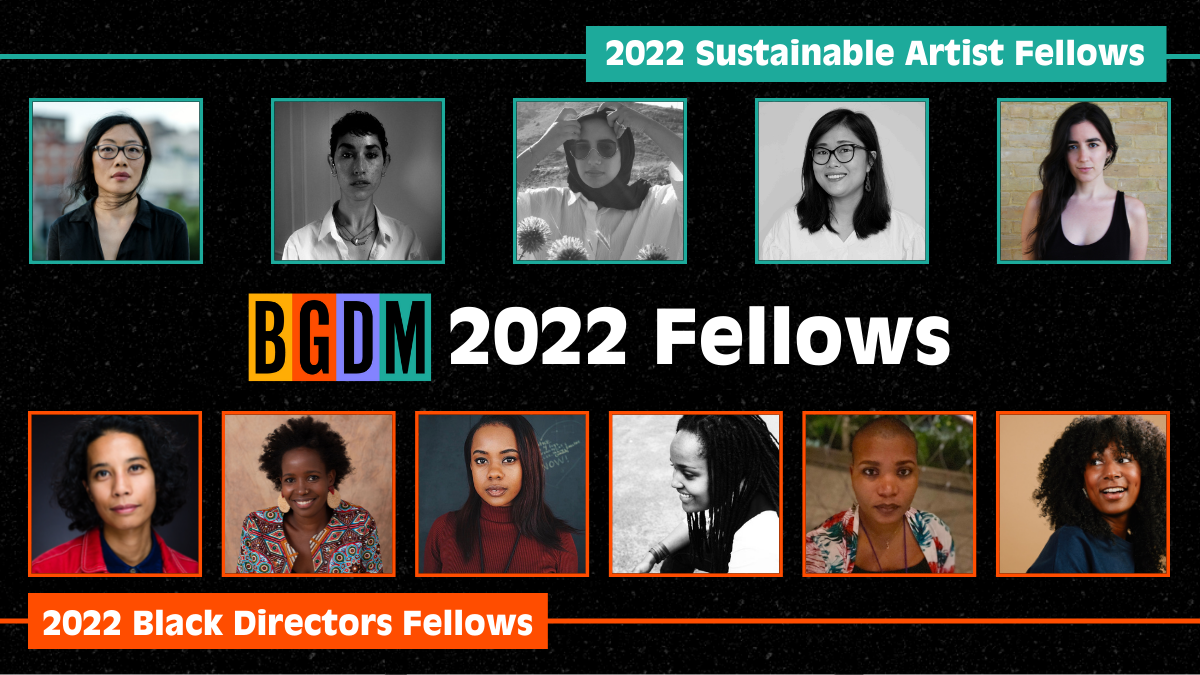 September 14, 2022 (New York, NY) — Brown Girls Doc Mafia announced today their selections for the Black Directors Fellowship and Sustainable Artist Fellowship, the organization's most in-depth, ambitious filmmaker support effort yet. Formerly the BGDM Black Directors and Sustainable Artist Grants, the initiatives were re-envisioned in 2022 as Fellowships to provide more holistic professional development support including grantmaking, mentorship, and curated industry connections.
"We're thrilled to launch these two initiatives for 2022-2023 — re-envisioned as comprehensive Fellowships — to fill the gap in the current documentary ecosystem that doesn't prioritize the needs of BIPOC women and nonbinary filmmakers. The Fellowships will take a holistic approach that considers the entirety and sustainability of their career and long-term future. Our focus with this reenvisioning is to emphasize the community building aspect of the program as a way to ensure our Fellows thrive within a sense of intentionally cultivated belonging, purpose, safety, and strength. We believe that these relationships are the seeds that will sow deeper change in the documentary industry over the next twenty years, enabling this 'great age of documentary' to be more diverse, equitable, just, and inclusive," said BGDM Executive Director Iyabo Boyd.
Six BGDM members were selected for the Black Directors Fellowship: Christine Turner, Nyasha Kadandara, Chelsi Bullard, Brittany Ferrell, and co-directing team Zephrine Royer and Stephanie Saxemard. The five BGDM members selected for the Sustainable Artist Fellowship are: Jia Li, Mars Verrone, Xinyan Yu, Robie Flores, and Jude Chehab.
While the goals of each Fellowship are distinct, the components are run in conjunction with one another, with the Fellows experiencing their program as one cohort. The Fellowships include access to funding, curated advisor meetings, creative and professional development retreats, support for attending a documentary film festival, community building through mentorship and leadership opportunities, and hands-on personal, creative, and career development support from BGDM program staff.
The fellowships shared a jury that included Ann Bennett (Documentary Filmmaker-Producer, Educator), Bedatri D.Choudhury (Culture Journalist, Programmer), Asad Muhammad (VP Impact & Engagement at POV), Cecilia Aldarondo (Documentary Director-Producer, Professor), Jeanelle Augustin (Manager, Film Fellowships and Artist Development at NBC News Studios), and Merrill Sterritt (Co-Director at IF/Then Shorts).
"We were thrilled to be invited behind the scenes at Brown Girls Doc Mafia to experience the admirably rigorous and expansive grantmaking process. A necessary intervention in our industry, BGDM grants and fellowships transcend harmful and obsolete dichotomies between director/producer, subject/object, and maker/consumer through active self-inquiry in the application and review process, encouraging us to see and celebrate originality, honesty, experimentation, and potential. We were taken by the wealth of stories and talent in this year's applicant pool. The selection process became even more challenging as we recognized the amount of resources still needed to adequately support and compensate the creative work of Black and brown femme and nonbinary documentary filmmakers insisting on a more inclusive reality. BGDM is a crucible for collective visions of tomorrow. We hope the field continues to recognize the unique and necessary opportunities that BGDM provides, and contributes increased financial support in the future so that additional grants and fellowships can be offered," shared the Fellowship Selection Jury.
The Black Directors Fellowship, sponsored by The Bertha Foundation, is focused on directors whose craft, and unique point of view is not only steeped in the Black experience but also reflects and uplifts Black perspectives. The Fellowship works to support Fellows with greater visibility, resources, creative enrichment, and professional development as a means to support the forward momentum of their projects.
The Sustainable Artist Fellowship aims to support, connect, and resource BGDM members working as directors, producers, editors, and/or DPs who are at a critical turning point in their creative or professional development. Fellows are identified for their craft, storytelling ability, and unique point of view as a career artist, and who demonstrate immense potential to contribute to a shifting documentary field.
These grants will be annual, and are supported in part by The Ford Foundation JustFilms, The John D. & Catherine T. MacArthur Foundation, NatGeo, The Bertha Foundation, Catapult Film Fund, and Breakwater Studios.
About the BGDM Fellowship Awardees
Chelsi Bullard (she/her) is a Memphis-born and New York City-based filmmaker with interests rooted in stories that tackle the human rights issues of our time, with a focus on youth, people of color and debunking inaccurate histories of disenfranchised folks. Her first feature, Brooklyn Butterfly, is in late production. Her short films have screened at DOC NYC, African American Women in Film Festival, Delhi International Film Festival and others.
Jude Chehab (she/her) is a Lebanese-American filmmaker based between New York and Beirut. Her cinematic interests have drawn her to the exploration of the esoteric, the spiritual and the unspoken. A richly layered visual and intimate personal shooting style developed under the mentorship of Abbas Kiarostami's final student group, Jude has been credited in collaborations with the BBC, Refinery29, Oxfam GB, and Doctors Without Borders. She has worked as a DP internationally, on films in Somalia, Sudan and Pakistan and was an AP on Sesame Street's newest show for Syrian refugees. Her work has been awarded fellowships through CAAM, NeXtDoc, Points North Institute, Firelight Media, Close-Up and Chicken and Egg. Jude is currently in post on her first feature documentary and has been supported by IDA, ITVS, TFI, and Sundance Institute. In 2021, Filmmaker Magazine named her one of the 25 New Faces of Independent Film.
Brittany Ferrell (she/her) is a St. Louis-based activist, public health nurse, mother, and filmmaker. She graduated with a Bachelor of Nursing Science from University of Missouri-St. Louis, and a Master of Public Health from Washington University in St. Louis. Visionary thinking and an appreciation for archiving Black experiences across time drew Brittany to the production side of documentary filmmaking. Brittany's experience in documentary started with her being in front of the camera—she devoted an incredible number of hours, days, and nights of her life to the Ferguson Uprising of 2014, which is well chronicled in the 2017 documentary Whose Streets. Brittany, an experienced high-risk labor and delivery nurse with a commitment to health equity and Reproductive Justice, is now directing her first documentary film titled You Lucky You Got A Mama. She values art and narrative power as tools for radical change.
Robie Flores (she/her) is an independent filmmaker based in Eagle Pass, TX and New Orleans, LA. Her work has appeared on CNN and Bloomberg and has been featured by Teen Vogue, Fusion, Allure and i-d Vice. She is drawn to telling stories that explore the nuances of her fronterizo, Chicano and Mexican-American communities. Her latest project The In Between, is a feature length film about growing up on the U.S./Mexico border.
Nyasha Kadandara (she/her) is an award-winning pan-African director and cinematographer who tells stories that traverse the continent and reflect alternative voices. Nyasha's latest work includes Le Lac, a virtual reality documentary that looks at the effects of climate change and the Boko Haram insurgency around Lake Chad. Le Lac won the Digital Narrative Award at Sheffield Doc/Fest in 2019 and is currently on the festival circuit. Her investigative documentary Imported for my Body, about cross-continental sex trafficking, was shortlisted for the Amnesty Media Awards in 2020 and selected for the Human Rights Watch Festival in Kenya. Most recently, Nyasha served as a juror for World Press Photo's digital storytelling contest and has been selected to participate in 2021's Berlinale Talents. Currently, her first independent feature documentary, Matabeleland, is in production and she is developing her first narrative feature Come Sunrise, We Shall Rule.
Jia Li (she/her) is a documentary filmmaker and cinematographer based in Brooklyn. A close collaborator of independent filmmakers and journalists, her work focuses on migration, overlapping cultures, and the often-overlooked voices of women and other groups. She has shot for features such as One Child Nation, Leftover Women, Hidden Letters, as well as HBO's Take Out with Lisa Ling, Quartz's Because China, and Hulu/ABC's The Informant. Her work in video journalism has won Edward R. Murrow, Ellies, and Webby awards. She contributes camerawork regularly for ABC, CBS, Vice, and other networks. Jia is also a founding member of the cross-cultural documentary collective HiLo.
Zephrine Royer (she/her) is a writer, impact producer and academic from Dominica. She is the co-founder of Creativ Sün Films, an impact film production company. She hosts Film & Impact, a podcast featuring documentary filmmakers, and publishes A Glimpse of Life, an online series of micro stories. Zephrine is a recipient of the 2021 Hot Docs Crosscurrents International Fund for her directorial début The Third Season. She is a Tribeca Film Institute Alumni and a Caribbean Film Academy 2021 & 2022 fellow. Her creative work is strongly rooted in the Caribbean reality and imagination and she has produced several documentary films centered on Caribbean stories. She is currently working on two documentaries, and completing her first novel.
Stephanie Saxemard (she/her) is a director, director of photography and documentary film producer from Martinique. She is Co-Founder of Creativ Sün Films, an impact film production company based in Martinique. Stephanie documents the contemporary Caribbean and has directed and produced several independent short documentaries. Her cinéma vérité explores themes of identity, migration and the environment through intimate, character-driven storytelling. Stephanie is a Hot Docs 2022 Fellow, a Caribbean Film Academy 2021 Fellow, and a Tribeca Film Institute 2019 alumni. She also produces Film & Impact, a podcast showcasing documentary filmmakers who use film to drive change. After an MRes in Political Science and International Cooperation from the University of the West Indies and an MA in Human Rights from the London School of Advanced Studies, she worked as a researcher, analyst and project coordinator in non-profit organizations. Stephanie lives in Fort-de-France, Martinique, and has previously lived in the UK, France and Switzerland. She is currently working on two short films The Third Season and The Isle, and a feature film, A Silent Killing.
Christine Turner (she/her) is a filmmaker in New York who spotlights tender, intimate portraits of people in socially charged landscapes. Her latest film, Lynching Postcards: Token Of A Great Day (Paramount+), was nominated for a Peabody, shortlisted for an Oscar and won an NAACP Image Award. Previously, Christine directed the critically-acclaimed documentary Homegoings, about a renowned funeral director in Harlem. Now streaming on the Criterion Channel, the film premiered at Documentary Fortnight at MoMA and aired nationally on the PBS series POV. Other projects include the Sundance selection, Betye Saar: Taking Care of Business (New York Times Op-Docs) and Paint & Pitchfork (The New Yorker), about celebrated artists Amy Sherald and Kehinde Wiley.
Mars Verrone (they/them) is a filmmaker and educator from Los Angeles, CA, now based in Brooklyn, NY. They are interested in creating work which illuminates unrecognized histories and imagines liberated futures for queer and transgender people of color. In 2019, they graduated magna cum laude from Brown University with honors in Modern Culture and Media. They are currently directing several short documentaries and producing a feature documentary about the Amazon Labor Union, a group of workers who made history by becoming the first in the United States to win a union election at an Amazon warehouse (dir. Steve Maing, Brett Story). Mars is a 2022 NBC Original Voices Fellow and PGA Create Fellow.
Xinyan Yu (she/her) is an award-winning video journalist and filmmaker based in Washington DC. Born and raised in Wuhan, China, Xinyan started her journalism career in 2012 working as a producer for BBC News in Beijing covering the Asia Pacific region. In 2018, she moved to New York to launch the North America video team for Hong Kong's flagship newspaper South China Morning Post, and later returned to the BBC in 2020 as a senior video journalist reporting on the US and producing its weekly news show, Cut Through the Noise from Washington DC. Xinyan is now an independent filmmaker working on her first feature documentary following three women through the bumpy expansion of the biggest Chinese industrial zone in Ethiopia. She is a Firelight Media Documentary Lab fellow.
---
The Black Directors Fellowship is supported by The Bertha Foundation. The Sustainable Artist Fellowship is supported by Catapult Film Fund and National Geographic Documentary Films.