The highly anticipated return of the Sundance Film Festival this year brought both excitement and eagerness from the BGDM team. We made our mark at this year's fest by reaffirming ourselves a safe haven for member connection and a place to escape from the overwhelming, bustling nature of one of the country's biggest festivals!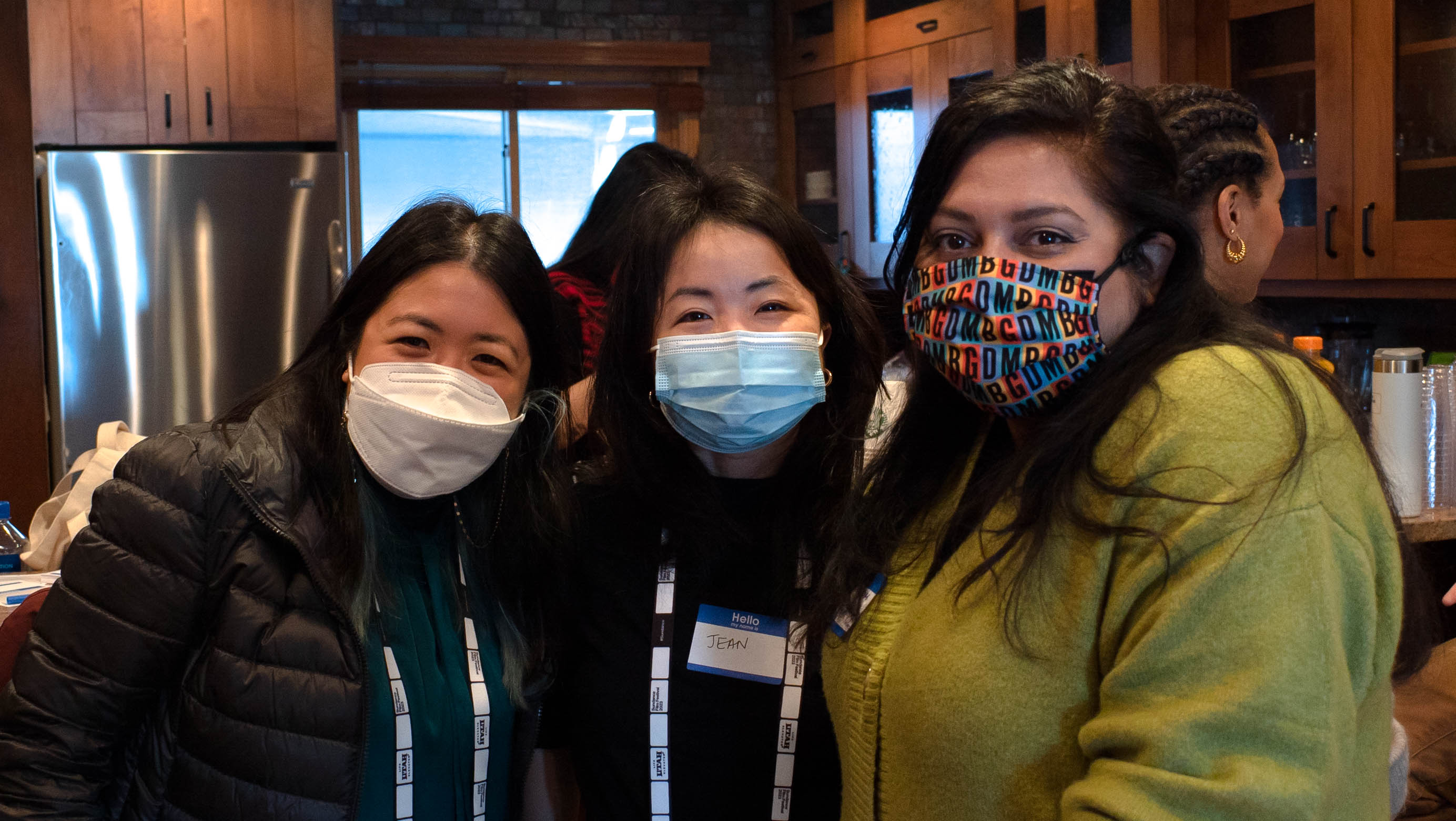 Opening Up Our Home
The BGDM Open House kicked off our weekend of programming at Sundance 2023. It was our first time back in Park City since 2020, and the instant energy we felt finally reconnecting with our Mafisoxs was unmatched! Members from across the world were able to connect in-person with familiar faces and new friends.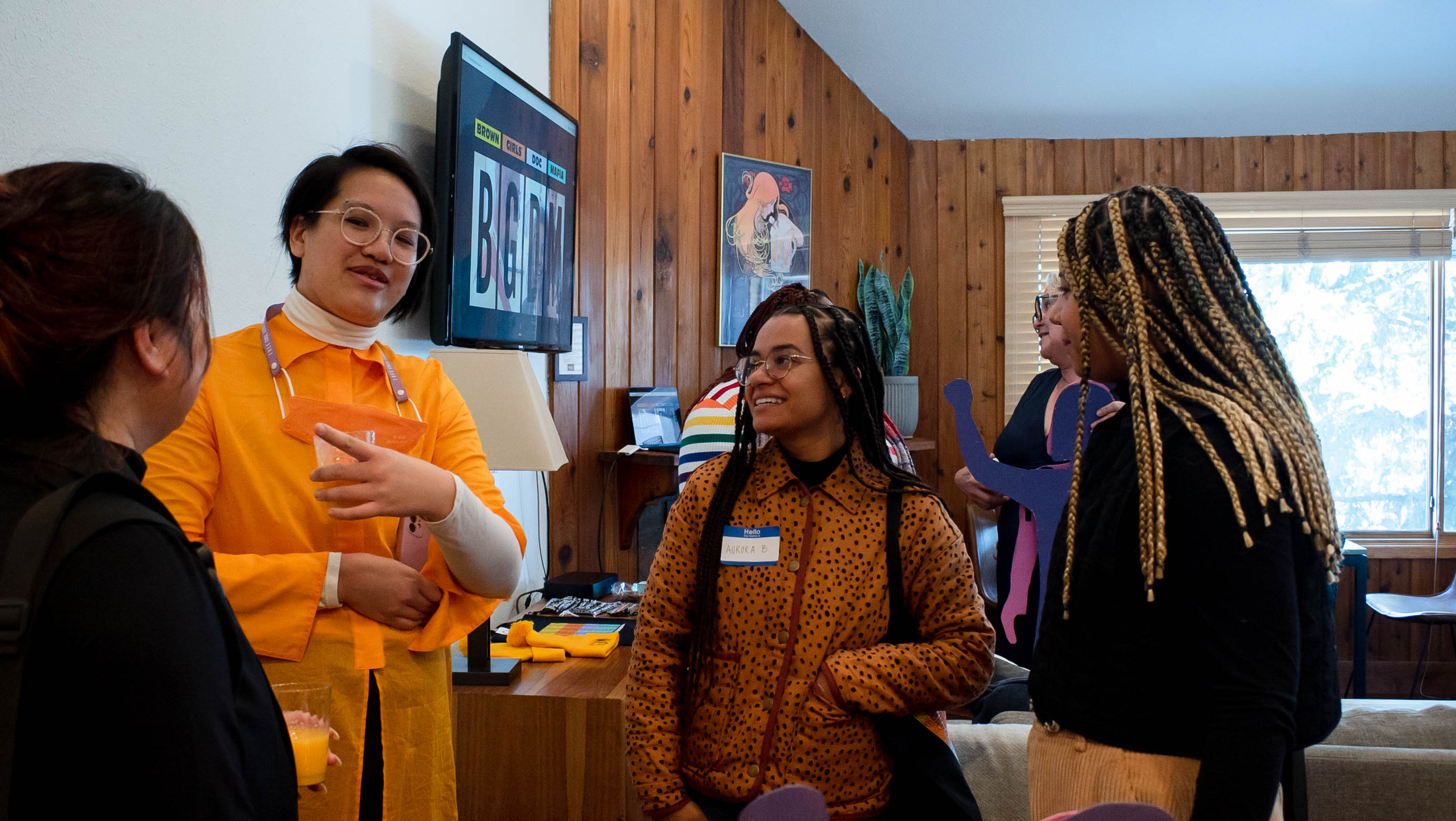 With a table full of food and a house full of members decked out in their new BGDM merch, the BGDM team shared some exciting news like the upcoming launch of our brand-new website! The BGDM website is the culmination of lots of hard work from the BGDM Staff, many of whom were finally able to introduce themselves to the community for the first time.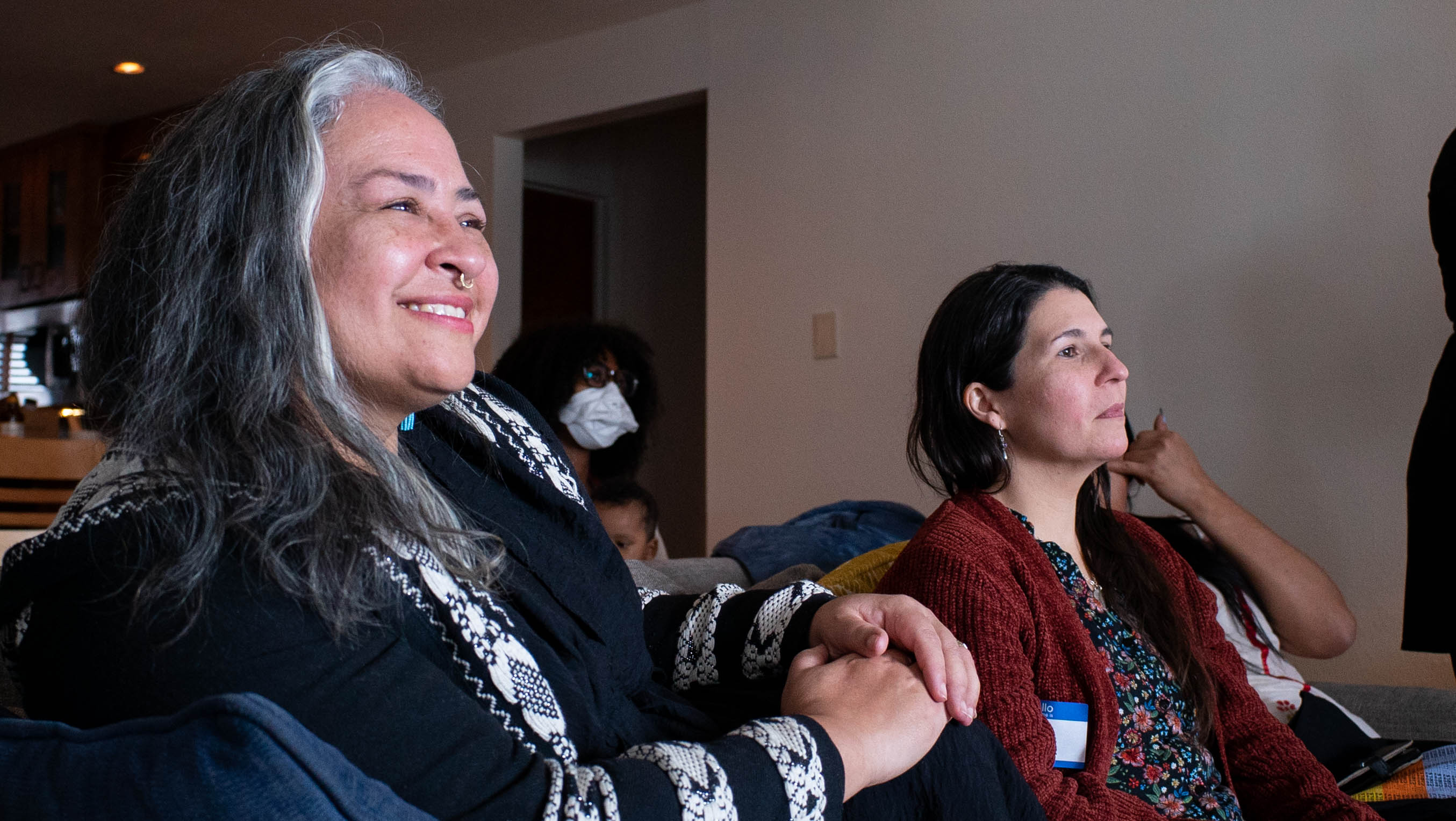 Making Space for Hard Topics
At Sundance, we gathered our community together with a two-fold purpose: providing a safe space for folks to reflect on their experiences, and dreaming up what safety and collective care can look like at major festivals. While we strive to build nurturing environments, it often feels like the structure, design, and spirit of exclusivity at festivals is at odds with the experience we want our members to have.
Emotions were high as members vulnerably shared the harmful experiences they've had at different festivals and events. Sitting with the tension, we ask ourselves: Can we acknowledge the harm that's been done while working towards repair? Do we need to divest from these systems and build our own spaces completely? How do we move away from simply being seen to take control of our own stories and own power? How do we move from representation to redistribution of power?
The fruitful discussion brought up exciting ideas for new systems of accountability and collective power that we can build together. How can we best leverage our experiences for change? One of the main realizations was that it's essential to consistently document our experiences. To participate and submit a story to the ongoing archive we are building, please submit through our form.

Perfecting the Pitch & Putting Yourself Out There
In 2022, the BGDM team, like folks across the film industry, were scrambling to hash out how to sustain some Sundance programs after the in-person festival was suddenly canceled weeks before. This is how our Virtual Industry Mixer was born! What started out as a response to a crisis (luckily, something doc filmmakers are trained to handle) is now transformed into a program we can bring back every year. The Mixer is a great way to sprinkle some festival pixie dust over more of our members, and continue to close that gap between filmmakers and gatekeepers.
Although an informal pitch event, we know how nerve wracking it can be. To set our BGDM family up for success, we held a pitch training session two weeks before the Mixer, inviting Amanda Spain (MSNBC) and Leah Natasha Thomas to lead this workshop alongside BGDM's very own Farihah Zaman and Iyabo Boyd. The team shared some key do's and don'ts, discussed the current documentary landscape, and gave constructive feedback as members practiced their pitches in small groups.
The incredible strength of these projects, along with the leg up from a little bit of training in how to make the most of those five minutes, shone through on the day of the Mixer. Participants had the opportunity to meet with representatives from Firelight Media, Hulu, Netflix, ITVS, NBC News Studios, Apple, Multitude Films, Disney's Onyx Collective, deNovo Initiative, ABC News Studios, MSNBC Films, Impact Partners and Fifth Season — who partnered with us to make this event possible. Even before reaching out for feedback, we received dozens of positive comments from members appreciating BGDM's support and opening doors to industry powerhouses that they might not normally have access to. We also received praises from industry representatives about the high quality of the projects and the pitches. The Industry Mixer wasn't just a great success, it was a reminder of how brilliant and beautiful our community is.
Couldn't join us this time? We have some tips for you:
Research who you're meeting with.
Practice talking about your project - and yourself.
Go with confidence, because these people need us to share our stories with them, and you will always have all of the BGDM crew cheering you on!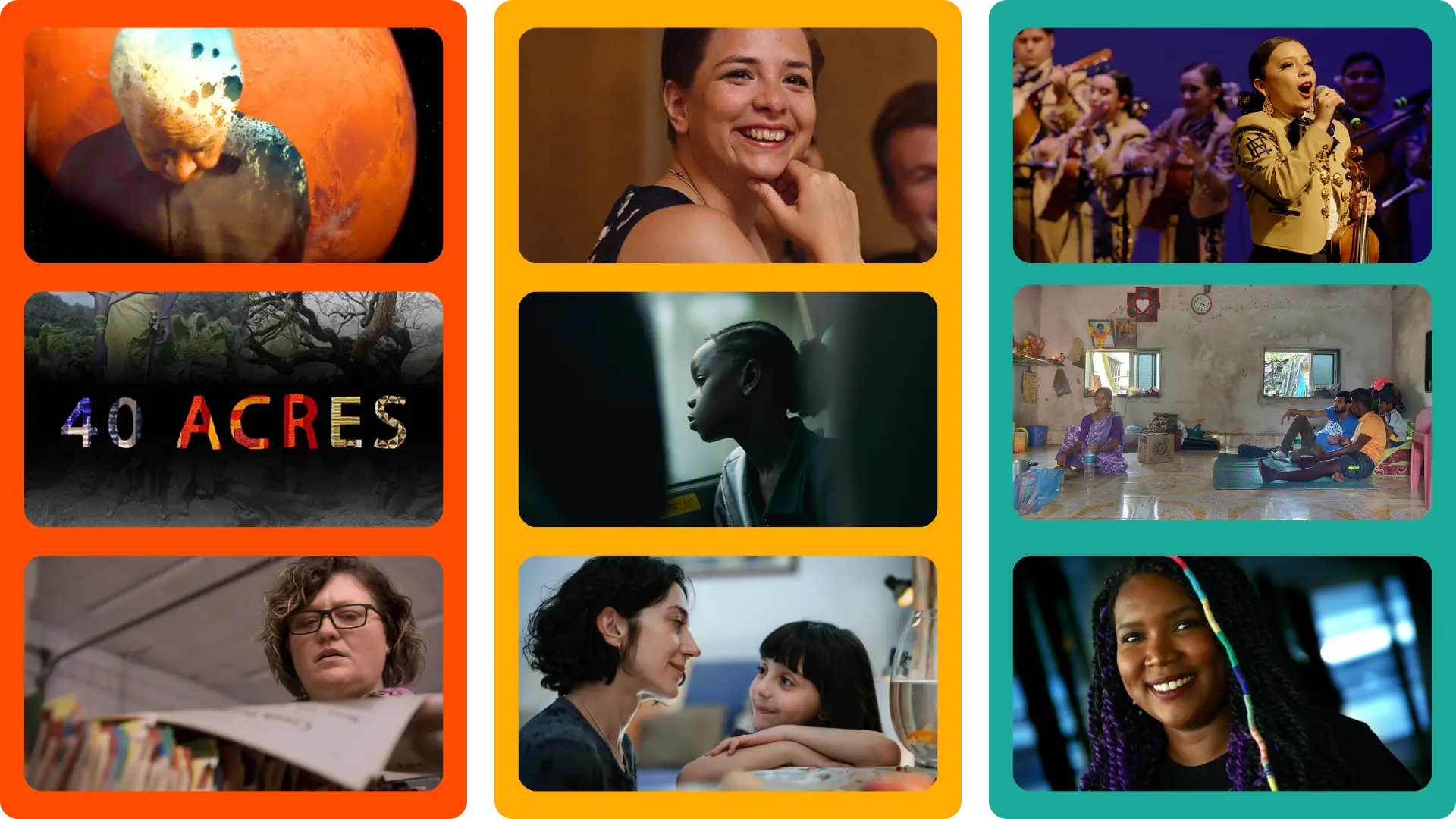 BGDM Takes Home the Awards
Our members never fail to wow the jury! This year we had over two dozen films in the festival that BGDM members had their hands in, with seven films and members winning across multiple categories including a Grand Jury Prize and Audience Awards.
In the U.S. Documentary Competition, Going to Mars: The Nikki Giovanni Project, co-directed by BGDM member Michèle Stephenson, took home the prestigious Grand Jury Prize. This film was packed with BGDM members in the crew including Associate Producers Ayana Enomoto-Hurst, Kiana Jackson and Arielle Knight alongside Online Editor Patrice Bowman. The film follows the iconic Black poet Nikki Giovanni in a unique portrait of her as a grandmother, an artist and an aspiring space-traveler, also reflecting back to her outspoken origins.
Bad Press, a film that BGDM has watched evolve through the Feedback Loop program, garnered the Special Jury Award for Freedom of Expression. The film is co-directed by BGDM member Rebecca Landsberry-Baker and edited by inaugural BGDM Sustainable Artist Grantee, Jean Rheem. Bad Press brings to light the issue of lack of free press laws in Native American communities, following a witty and unapologetic Muscogee (Creek) journalist, Angel Ellis. Be sure to look out for the BGDM logo in the credits!
Finally for the U.S. Documentary Competition, BGDM member Daniela I. Quiroz was honored with the Jonathan Oppenheimer Editing Award for her outstanding work on Going Varsity in Mariachi. She is one of three members in a BGDM trifecta who brought this film to life, including director Alejandra Vasquez and producer Julia Pontecorvo.
In the World Cinema Documentary Competition, Against the Tide landed the Special Jury Award for Verite Filmmaking. This Indian film was directed by Sarvnik Kaur and produced by Koval Bhatia, two of our talented members and follows long-time fisherman friends with two vastly different approaches as they face the struggles that come with a decreasing fish population.
Like most filmmakers, creativity takes us where it wants – often bringing doc filmmakers over into the narrative side. In the World Cinema Competition, Shayda received the highly-coveted Audience Award. Directed, written and produced by BGDM member Noora Niasari, this film follows a young Iranian mother and her young daughter who take refuge in an Australian women's shelter during the Iranian New Year.
Short films are an artform of their own, packing so much story into such a short span of time. In the Short Films Awards, the Jury Award for U.S. Fiction went to Rest Stop, directed by Crystal Kayiza and produced by Jalena Keane-Lee, two more incredible BGDM members. The film is a story of a young Ugandan-American girl on a cross-country bus ride with her mother and brother in an effort to reunite her family, during which she grows to understand her place in the world.
Last but not least, Tamara Shogaolu was honored with a Stars Collective Imagination Award from the Sundance Institute for 40 Acres, her multi-platform exploration of Black American farmers and herbalists and their changing relationship to the land.